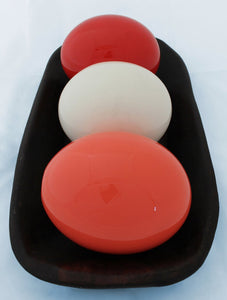 Orange, cream and red, permeates the oval shape of these three African ostrich eggshells in a deep glaze. Sultry and modern, these eggs would suit a stylish home and those discerning collectors looking for decor that is simply out of the ordinary. The combination of texture and rich glaze ensures that this piece will stay the centre of attention for a long time. Placing beautifully coloured ostrich eggs inside a bowl or on a brass stand provides that perfect contrasting décor piece.
Choose from our range of brass stands or wooden bowls for ostrich eggs.
Please note price excludes brass stand or bowl.